When you hear 'Oregon,' what do you think of? Between the 363 miles of coastline, multiple thriving cities, and countless outdoor adventure locations, Oregon has everything you can ever dream of. And you can experience it all from the driver's seat of an Excursion campervan!
In one easy loop, you can travel through 7 of the 8 different regions in the state, visit most of the 7 natural wonders of Oregon, and have the opportunity to drop into northern California to take in the towering redwoods. We recommend taking your time on this loop – there's simply so much to see and enjoy, you can easily spend 10 or more days experiencing all Oregon has to offer. That said, a shorter trip can be just as amazing! This guide will outline each destination, the best pit stops along the way, and help you navigate the vast array of adventure options.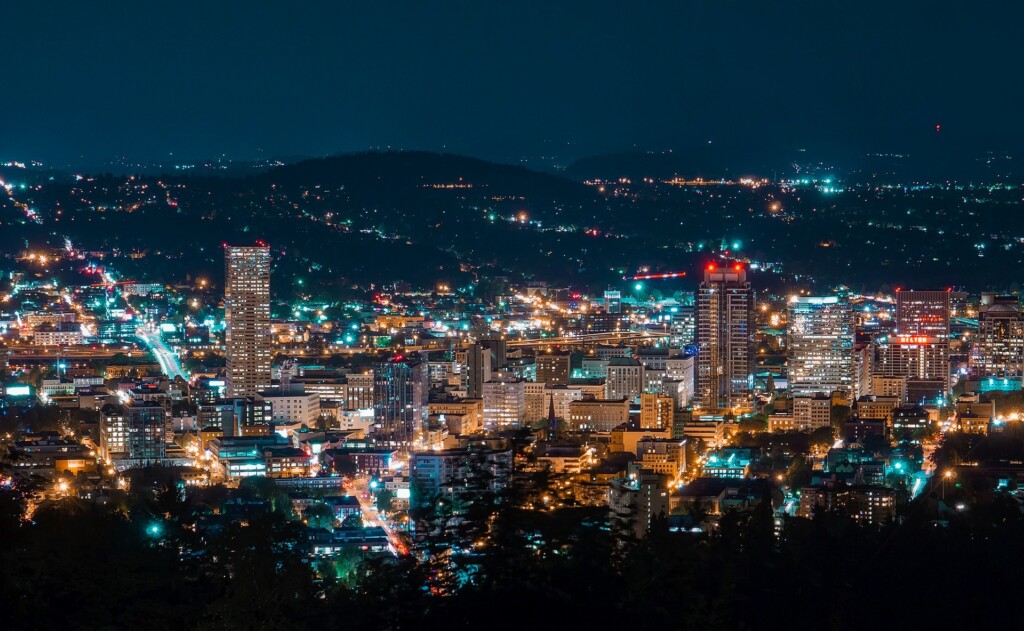 Portland
As good a place to start as any! The city offers hundreds of amazing restaurants, over a dozen beautiful parks within city limits, and so many fun things to do that you could spend your entire vacation there. But we're not here for that… Portland is also where you'll pick up your Excursion van and start your campervan adventure!
Once you're settled in your van, it's time to hit the road. The only decision now: which way first? The loop described here can be approached from either direction depending on your idea of the perfect adventure. For now, we'll head east first.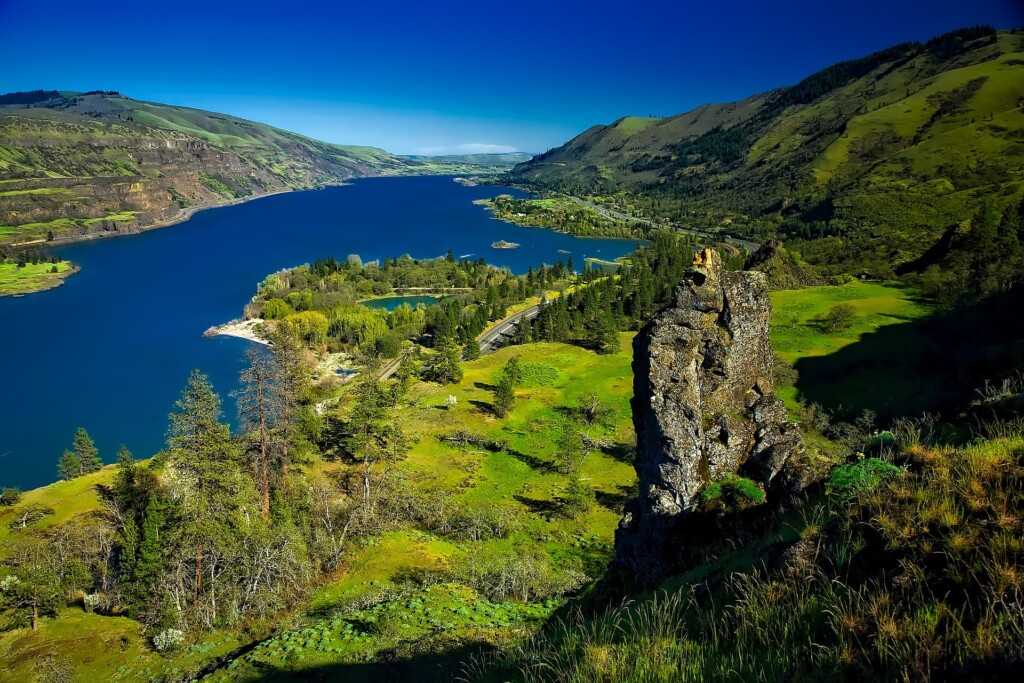 Columbia River Gorge & Hood River
First up, as you travel I84 east, you'll be driving along the awe-inspiring Gorge, cut by the mighty Columbia river. The Columbia River Gorge is the largest National Scenic Area in the country, so there are countless places to stop and marvel at the basalt cliffs, the many waterfalls that dot their heights, and the wind surfers braving the choppy river. Not to mention all the wineries, breweries, and restaurants using the unique geography to create something special.
Multnomah Falls is one of the most famous waterfalls along the Gorge, and a sight worth seeing. The Falls' main parking lot is just 45 minutes (30 miles) from Portland. The parking lot can get a bit full during peak season, but there is a secondary lot in Bridal Veil (Exit 28) with a convenient shuttle van for those times. Multnomah is far from the only waterfall in the area though. If you have time to explore, the shuttle service (Sasquatch Shuttle) mentioned above also provides hop-on, hop-off service to the Vista House, Latourell Falls, Wahkeena Falls, Multnomah Falls, Horsetail Falls, and Bridal Veil Falls. There are also a variety of hiking trails in the area that really showcase the Gorge's beauty.
Sasquatch Shuttle runs from 8:15 a.m. to 5 p.m. between Memorial Day and Labor Day and offers ample parking, though cannot accommodate overnight parking
Our next landmark is the city of Hood River. Just an hour from Portland (61.9 miles), Hood River brings together all the Gorge has to offer – awesome food, world-class wineries and breweries, history and culture, and a myriad of outdoor opportunities. You can rent water equipment and go out on the Columbia, join a whitewater rafting trip, visit any of the many museums in town, or simply use the city as a jumping-off point to visit the other lakes, waterfalls, and hiking trails in the area.
Come summer and fall, many people travel to the Hood River area for its Fruit Loop, a collection of 27 orchards, vineyards, and farms that range from u-pick to roadside stands and feature the season's freshest fruit and lavender. The Fruit Loop is open June through October, though you'll want to time your visit for the fruit you're after.
Other exciting outdoor stops include upper McCord Creek Falls, Punchbowl Falls, Dry Creek Falls, Horsetail Falls, Mount Defiance (the tallest point in the Gorge), Lost Lake, Eagle Creek Trailhead (which leads to Punch Bowl Falls – a different waterfall than the previously mentioned Punchbowl Falls), Wyeth/Gorton Creek trailhead, Umbrella Falls Trail, and much, much more.
Places to stay:
Parking for campervans can seem tricky, but with the right know-how and resources, you'll soon be navigating like a pro. There are a variety of free (or minimally expensive) apps and websites that come in handy if you're a go-with-the-flow traveler, but we'll list some of our favorite sites here for those that like to plan ahead.
Remember, one of the big pros of campervans is their relatively compact parking footprint – public spaces like visitor centers, trailheads, state parks, Bureau of Land Management (BLM) land, and pullouts can be great options (unless otherwise marked with signs prohibiting overnight parking).
Brooks Meadow Road/Forest Road 44 (dispersed site, free): Just half an hour south of Hood River on Oregon Route 35, this site brings you within the Mount Hood National Forest. The turnoff for this site is paved (if you hit Little John Snow Park, you've gone too far), but almost immediately a variety of unpaved side roads become available to explore in search of your perfect site. Some even provide full views of Mount Hood through the heavily wooded surroundings. Spots are available throughout the area, and you can continue onto Surveyors Ridge Road (Forest Road 17) or Durfur Valley Road for even more options.
Tucker Park (first come first served, $25-35): Tucker Park is less than 15 minutes outside of Hood River and features coin-operated showers, parking sites along the Hood River, picnic tables, and well-managed sites (thanks to the camping fee). Open for camping May through October.
Bonney Meadows Campground (first come first served, free): The US Forest Service recommends high clearance or four wheel drive vehicles to access this beautiful camping site, situated next to lush meadows and trails. Bonney Meadows features dispersed parking options for campervans, as well as some site amenities like picnic tables, pit toilets, and fire pits. Though off the beaten path (turn off Route 35 onto a series of forest roads), campers say it's worth it.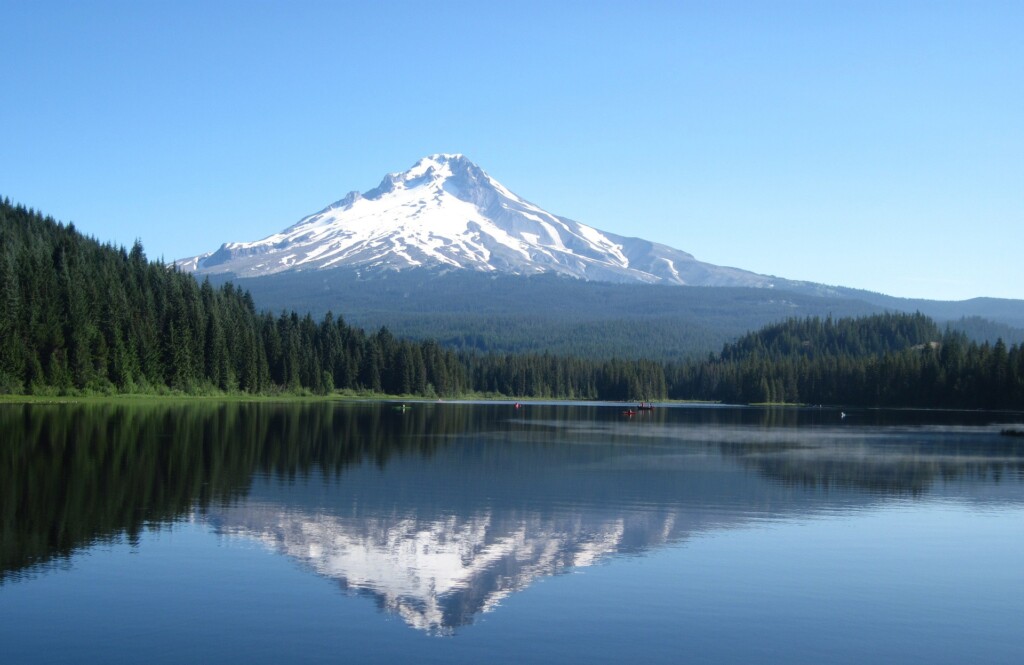 Mount Hood
Just under 2 hours from Portland via I84 and 50 minutes south of Hood River, Mount Hood is the tallest peak in the state (originally named Wy'east by the area's first Native American inhabitants) and dominates the skyline for miles around. The peak features renown camping, hiking, and fishing opportunities, as well as nearly year-round skiing, that keep visitors coming from around the world. In fact, Mount Hood is the second most climbed mountain in the world, right behind Mount Fujiyama in Japan.
Mount Hood and its surrounding National Forest offer countless opportunities for all types of adventure, from exploring lakes and the mountain's history to short day hikes and longer, multi-day hikes. It's a big place though, so make sure to pick your preferred activities beforehand. Also, overnight stays in the National Forest require a wilderness permit, available at most trailheads and campgrounds.
Trillium Lake is often Instagrammed, with its stunning views of the peak across the clear water, but Lost Lake and Mirror Lake are worthy contenders for your time with glacial waters and old-growth forest surroundings. These lakes also feature short 2 mile hikes perfect for stretching your legs. Many of the mountain's ski areas also offer hiking, ziplining, and horseback riding in the summer.
For those seeking a longer hiking excursion, Timberline Trail offers a 40-mile trip around the mountain with stunning waterfalls, alpine meadows, forests, and scenic vistas. The trail also passes by Timberline Lodge, a National Historic Landmark built in 1937 (and filmed as the exterior of The Shining's iconic setting), and Cloud Cap Inn, built in 1884 and now used as a site for search and rescue teams, training, and snow surveys in winter. Both of these locations are also accessible by road if a multi-day hike isn't your cup of tea.
Perfect for relaxing tired muscles – or just relaxing – natural hot springs dot the Cascade Volcanic Range. Near Mount Hood, Bagby and Breitenbush Hot Springs are ideal for a hot dip. Bagby is open to the public, though wildfire damage is currently impacting the road leading to the springs. Breitenbush is a commercial hot spring with a commitment to utilizing sustainable practices.
Mount Hood is also home to the longest ski season in the US, meaning plenty of time to play in the snow. If you're taking advantage of the insulation and heating inside an Excursion van to visit the slopes, make sure to visit the mountain's six ski areas for skiing, snowboarding, snowshoeing, and much more. Mt. Hood Skibowl is famous for its night skiing and cosmic tubing, while Mt. Hood Meadows features hike-to skiing for those looking for even more elevation. But take note that some campgrounds and roads may be closed due to snowfall.
Places to stay:
Mount Hood National Forest is home to nearly 100 Forest Service-operated camping areas complete with picnic tables, fire rings, and vault toilets. The forest is also full of Forest Service roads and pullouts available for dispersed campervanning.
Trillium Lake Campground (reservations, $26): A popular site along the edge of picturesque Trillium Lake, this campground fills up quickly so reservations are encouraged. Family-friendly with swimming, boating, and fishing options, expect families with children. Educational programs are held on weekends throughout the summer.
Clear Creek Crossing (first come first serve, $12): If you're looking for a quiet, peaceful spot for the night, Clear Creek Crossing is perfect. The site is right next to Clear Creek, offering the tranquility of running water. The site also provides access to Clear Creek Trail #487.
Camp Creek Campground (first come or reservations, $26): not far from the base of Mount Hood, Camp Creek Campground sits on the western side of the mountain and offers countless opportunities for hiking, biking, and awesome pictures. Camping sites include picnic tables, fire pits, and accessible water.
Optional: Painted Hills & Central Oregon
Our main loop continues south to Smith Rock and Bend – however, this is the perfect spot in the journey to cut east and check out the Painted Hills and John Day Fossil Beds National Monument if you're interested. This detour is about 3 hours from Mount Hood and would add a day to your trip. The Painted Hills are considered one of Oregon's 7 Wonders and the strikingly colored hills extend throughout the area. Just stay on Highway 26 when it forks after Madras instead of continuing south on Highway 97.
Dispersed camping is popular in the Painted Hills area, with many Forest Service and Bureau of Land Management roads offering cozy turnouts. Fans of the area recommend the views from a campsite at the end of an unmarked road off of Service Creek-Mitchell Hwy (Route 207), as well as the cooling benefits of camping anywhere alongside Bridge Creek.
Hiking is popular within the Painted Hills area, with five short trails to choose from: Carroll Rim, Leaf Hill, Painted Cove, Painted Hills Overlook, and Red Scar Knoll.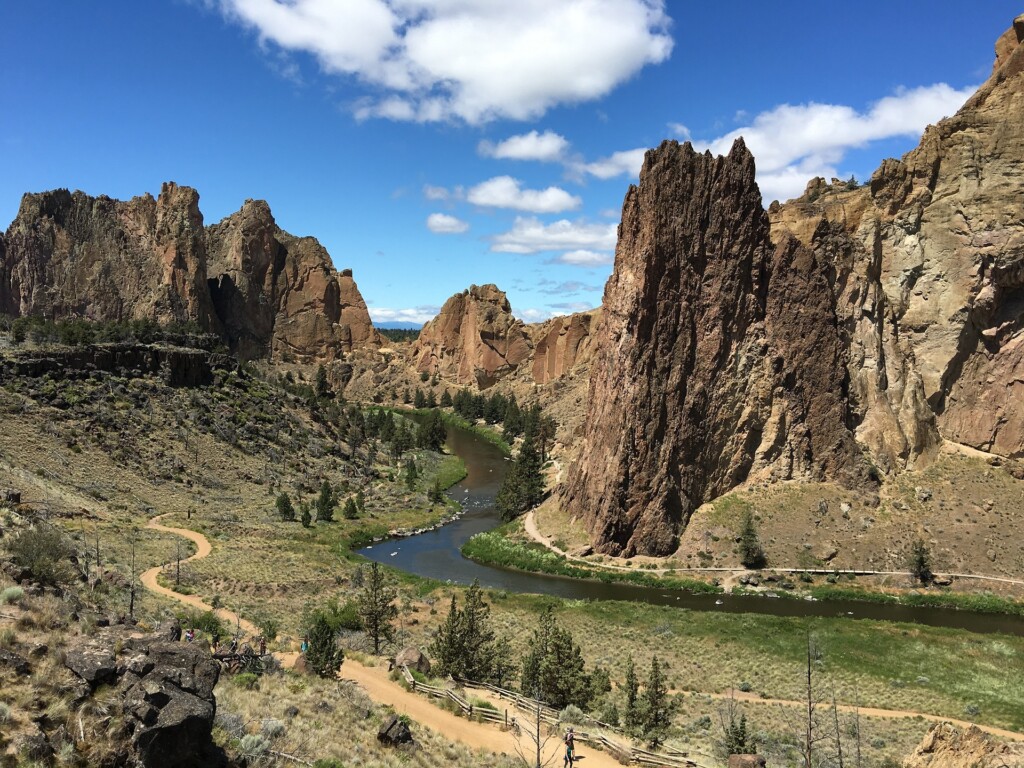 Smith Rock & Bend
Let's get back on track! Continuing south of Mount Hood for about 2 hours, Smith Rock State Park is just outside Terrebonne and features stunning rock formations along Crooked River. Looking for some rock climbing? Smith Rock has ~thousands~ of climbs to choose from, many of which are bolted. And, for those not inclined to scale sheer walls, there are also miles of hiking and mountain biking trails.
Some climbs are closed between January and August to protect the nesting sites of golden eagles and falcons in the area. Tent camping is allowed in the state park, but not campervans – though the site does have shower facilities and flushing toilets. The closest site for you may be the Skull Hollow Campground, less than 15 minutes from the state park on Lone Pine Road. The campground itself is well maintained, first come first serve, with a $10 fee and bathroom facilities. In addition, visitors say there is space for dispersed camping across the road from the campground's entrance. You'll also have access to other trails in the Crooked River National Grassland area.
Another 35 minutes south sits Bend, a trendy town at the foot of the Deschutes National Forest and surrounded by mountains. It's easy to feel dwarfed by the towering peaks of Mount Bachelor and Paulina Peak, and the cluster of North Sister, South Sister, and Broken Top, all visible from town and less than an hour's drive away.
The city of Bend retains its mountain/Central Oregon vibes while also fast-tracking its food scene and culture. Called "the craft beer mecca," Bend is studded with top-tier breweries, distilleries, and wineries, as well as an exciting food landscape that gets more diverse by the day. BendFilm, a cultural touchstone for the city, hosts a film festival for independent films at the Tower Theatre in October each year, as well as other year-round events. All the while, rental businesses abound to provide for all the kayak, stand up paddle board, bike, and float needs you may have. The Deschutes River offers a car-free ride through town, while Phil's Trailhead is your gateway to an extensive mountain bike trail system.
Outside of town, you'll find countless lakes, trails, hot springs, and other outdoor activities to enjoy. Note: Day-use or overnight permits are required for most trails in the Deschutes and Willamette National Forests between June 15 and October 15 to offset the nearly 300% increase in trail use over the past 5 years.
Though Mount Bachelor is known for its skiing in the winter season, come summer its slopes are transformed for ziplining, frisbee golf, hiking, and mountain biking.
Chasing waterfalls? Bend's got you covered with Tumalo Falls, Wizard Falls on the Metolius River Trail, the Deschutes River Trail System that features the Benham, Dillon, and Lava Island Falls, Salt Creek Falls, and many more.
Soak your troubles away on the west side of the Three Sisters cluster at Bigelow, Cougar/Terwilliger, Foley, or Belknap Hot Springs near McKenzie Bridge.
Thanks to the volcanic history of the area, Bend is home to one of the longest lava tubes in the state – about 2.2 miles roundtrip. The average temperature in the cave is about 42 degrees, perfect for beating the summer heat!
Lake hikes galore! Top on many lists is the Broken Top Trail to No Name Lake, though you'll need a high clearance vehicle and if you want to avoid snow, head out in late summer. Other honorable mentions include:

Sparks Lake; catch the sunrise over three amazing peaks from the Ray Atkeson Memorial Trail to avoid crowds on this popular hike.
West Metolius River Trail leads to the unique Metolius Springs, where the river seems to spring forth from nowhere.
Green Lakes Trail (sometimes called Soda Creek Trail) offers the best of everything – mountain peaks, waterfalls, and stunning wildflowers in the spring.
Moraine Lake Trail asks for nearly 1,500 feet in elevation gain, but the panoramic views from the top are worth it.
Places to stay:
With a majority of Bend's surrounding areas part of different national forests, you'll find numerous spots for dispersed campervanning along forest service roads. In addition, we've found some reservation-needed sites that will keep you close to the action.
Cold Spring Campground (reservation, $18): Shaded by massive Ponderosa Pines, this site is popular with families for its access to hiking sites and birdwatching. Located just southwest of Sisters (~40 minutes west of Bend).
LaPine State Park (reservation, $28): This state park features three different loops of available sites, one of which is open year-round. The loops also include flush toilets and shower facilities, as well as proximity to awesome hikes, fishing, biking, and more. Located about 30 minutes south of Bend.
Tumalo State Park (reservation, $21): Not located near the Tumalo Falls landmark, this state park sits alongside the Deschutes River and serves as the perfect basecamp for any of your Bend-based activities. The river offers a spot to cool down with wading and swimming, as well as a put-in for non-motorized watercraft. Located less than 20 minutes from Bend.
Mallard Marsh Campground (first come or reservation, $17): Located on the reed-lined shores of Hosmer Lake on the west side of Mount Bachelor, Mallard Marsh Campground features spectacular views of the nearby peaks.
Sparks Lake dispersed camping (first come first serve, free): Just up the road from the Sparks Lake day-use area and off the Cascade Lakes National Scenic Byway, these pullouts are popular among those intent on enjoying all Mount Bachelor has to offer. In addition, you'll be just down the road from the Green Lakes Trailhead that will take you up to Broken Top. Just about 30 minutes from downtown Bend.
Sno-Parks overnight camping (first come first serve, free): There are 6 Sno-Parks along the Cascade Lakes Highway (an 8-mile stretch between Mount Bachelor and the Three Sisters cluster) that offer free secluded parking and quick access to a variety of trailheads and activities in the area.

Note that the Cascade Lakes National Scenic Byway is closed from December to March due to snowfall.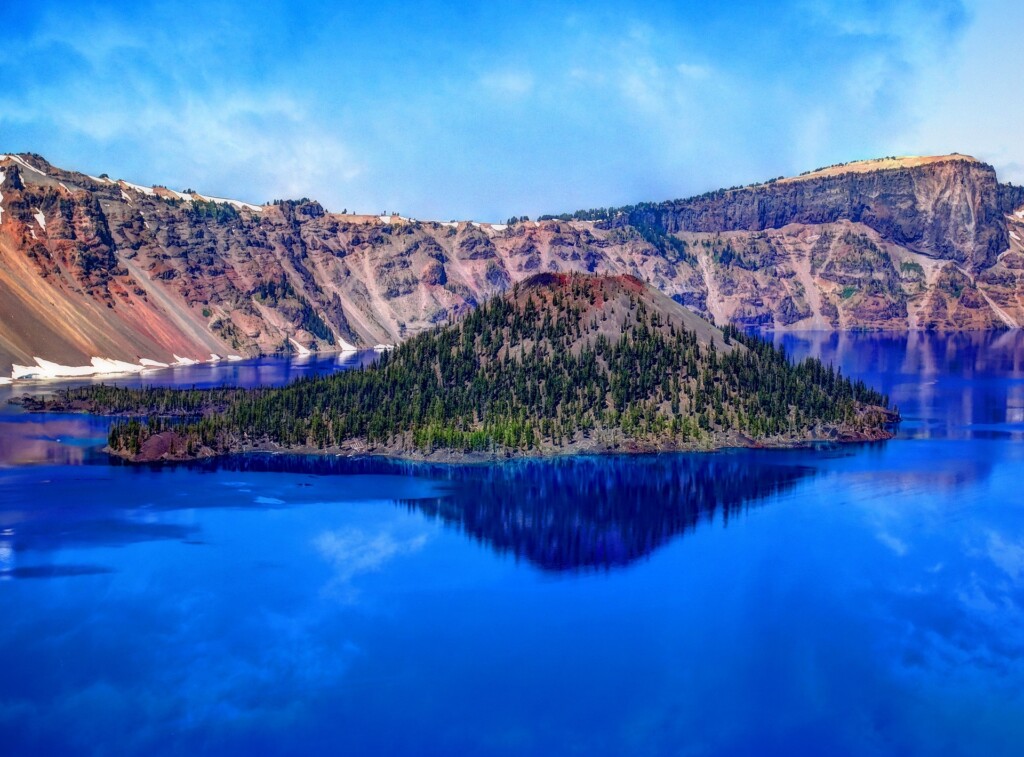 Crater Lake
We continue on our journey, heading south. Crater Lake National Park itself is about 2 hours' drive from Bend. But, along the way, you'll be traveling through the volcanic region of the state that differentiates this area from other places in Oregon. Tall trees, taller mountain peaks, and hot springs galore!
If you're the soaking type, there are a number of naturally occurring hot springs dotting the feet of the various mountains. On your way south, detour east to the Paulina Lake Hot Springs, or west to Wall Creek and McCredie Hot Springs. Closer to Crater Lake is Umpqua Hot Springs. Check out SoakOregon.com for more information on the state's many hot springs.
Another fun detour to take leads to a tasty and relaxing piece of the Central Oregon "Outback." In La Pine, turn east onto Highway 31 and after about an hour and a half you'll find the Cowboy Dinner Tree. An ode to the ranchers and horsemen in the Way Back, the Cowboy Dinner Tree retains its old school cowboy vibes through both its decor and its menu. The Cowboy Dinner Tree does require reservations due to its small footprint, is generally only open on the weekends depending on seasonality, and only takes cash – they take their commitment to their roots seriously! – but make up for those hurdles with delicious meals, old-timey hospitality, and fun atmosphere. Also, if you need a break from sleeping in your campervan for a night, there are multiple rustic and cozy cabins available to rent with complete amenities. You'll get back on track via the Volcanic Legacy Scenic Byway that skirts the northwest foot of Yamsay Mountain.
You'll see the peaks of Crater Lake National Park far before you arrive, with Mount Scott rising nearly 9,000 feet and other peaks surrounding the lake approaching 8,000. Crater Lake is one of the 7 Wonders of Oregon and is in fact the deepest lake in America, thanks to its intensely volcanic past. Full of hikes and breathtaking views, Crater Lake National Park itself is open year-round with cross-country skiing, snowshoeing, and other winter activities. Do note that many roads and facilities close in the winter – the area gets more than 100 inches of snow per month – so plan a winter trip carefully.
Due to the elevation of Crater Lake, temperatures can fluctuate throughout the day so be sure to bring along some warm layers. Take steps to avoid elevation sickness and dehydration, you want to be feeling your best while you take in the majesty around you. Crater Lake is dotted with trails, some that take you to one of the peaks surrounding the lake and one that takes you down to the lake itself. The Cleetwood Cove Trail is highly popular due to its exclusive lake access and availability of boat tours during the summer. From the lake, you can also take a shuttle to Wizard Island and summit the middle of the lake!
Places to stay:
Crater Lake National Park is popular among dispersed campers, with a variety of Forest Roads and established sites to choose from. Here are our favorites:
Forest Road 960 (first come first served, free): On the north side of Crater Lake, Forest Road 960 also provides access to Summit Rock (though to drive all the way up requires 4-wheel drive)

An offshoot of 960, Forest Road 961 also features dozens of previously used campsites

Forest Road 70 (first come first served, free): Also to the north of Crater Lake, Forest Road 70 is well-traveled and has several other forest roads branching off of it to provide even more site choice
Clearwater Forebay Number 2 (first come first served, free): Near the town of Clearwater, this site sits off NF-252 alongside a reservoir ideal for cooling down on a hot day. The site is managed by a utility company, with utility vehicles frequently visiting, and includes gravel parking sites and fire pits.
Scott Creek Campground (first come first served, free): For a small, off-the-beaten-path option right at the foot of Mount Scott, Scott Creek includes just 6 campsites. Each site includes a picnic table and fire pit, with a vault toilet available.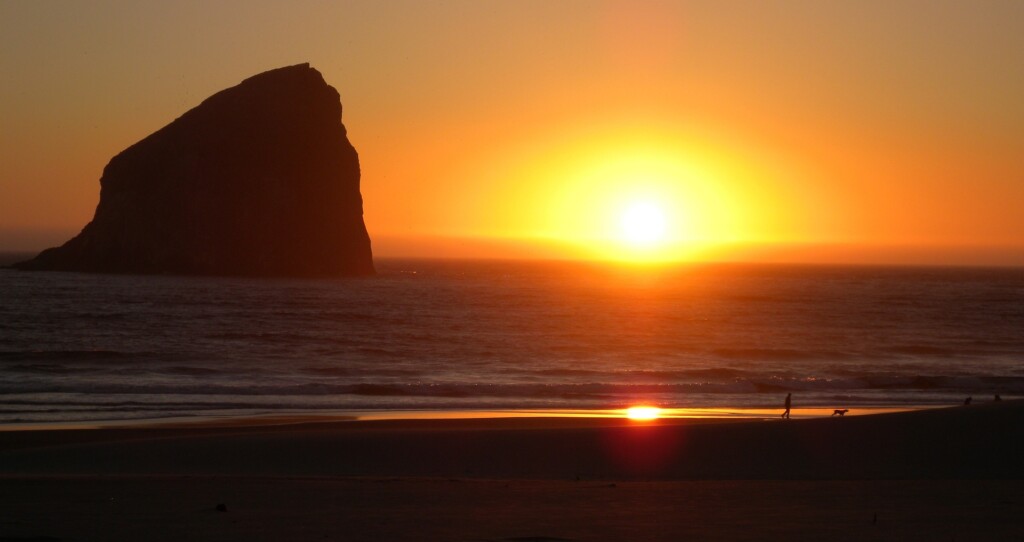 The Oregon Coast
From Crater Lake, we enter the last leg of your journey as we head for the coast. Oregon has over 360 miles of coastline, and Highway 101 will take you through each and every little coastal town. Driving along 101 can be time consuming – blame all those 20mph zones through tiny towns – but you'll also get to enjoy all the different iterations of the coast, from rocky and secluded to soft sand and miles-long beaches. We don't have time to talk about all that the coast has to offer, unfortunately. So, while there's no limit to the activities and beauty of the coastline, we'll be highlighting our very favorite stops along the way.
*Side note: If the coast isn't your thing, or at any point you need to speed up your travel, there are multiple opportunities to head east and hit I5 for a faster trip back to Portland. The best transition points will be in Bandon, Reedsport, Florence, Newport, Tillamook, and just north of Cannon Beach.
On the southmost edge of the Oregon Coast sits Brookings, home to tide pools, protected marine bird habitat, and beautiful scenery. Chief among Brookings' unique beauty is Natural Bridges, seven geological wonders carved by the frothing ocean. Found along the Samuel H. Boardman State Scenic Corridor, these sea arches are stunning testaments to the elements and time. There's an easy 0.6-mile hike to the Natural Bridges Viewpoint that offers a fantastic view of the two main arches, as well as a longer (more treacherous) path onto the arches themselves. Nearby, there's also a trail to Secret Beach, one of the coast's best-kept treasures.
Also in Brookings, you'll find the Oregon Redwoods Trail wandering through one of the state's two groves of old-growth redwoods. Optional: If you decide to hit Brookings (we hope you will!) and want to see more of the famous towering trees, the easiest route from Crater Lake to Brookings drops you into California briefly – right by Jedediah Smith Redwoods State Park. Just one more stop to consider!
Between Bandon and Coos Bay, 101 veers away from the coast but you don't have to. Simply take Beaver Hill Road to find a series of tucked-back beaches and hikes, as well as the Cape Arago Highway, which passes through three state parks and features a variety of viewpoints, hiking opportunities, and unique scenery.
In Florence, you'll find the Oregon Dunes National Recreation Area – one of the largest collections of coastal sand dunes in the world – where you can zoom over the dunes in rented buggies. Just north of Florence sits the Heceta Head Lighthouse, which still warns passing ships of Cape Perpetua today. Around the lighthouse, there's a scenic beach below, a historical education site and running tours, and rewarding hiking trails in the hills above.
Thor's Well makes a nice stop on your drive as you continue north to Yachats (pronounced ya-hots). Sometimes referred to as a 'gate to hell,' this famous collapsed sea cave is far more visually stunning than it sounds – waves crash in, spiral down, and hurtle skyward in an epic splash. You can catch this sight from the parking lot or hike a half-mile loop on the Captain Cook trail that offers other vantage points of Thor's Well, Cape Perpetua, and Spouting Horn, a natural ocean blowhole just under a small overpass bridge. Try to aim for high tide to catch the best visuals!
Another stunning lighthouse, the Yaquina Head, juts into the ocean on the north end of Newport – which is also home to the Oregon Coast Aquarium. From there, it's a short jaunt up to the Devil's Punchbowl, another set of collapsed sea caves. During harsher weather, such as in the winter, the water churns, foams, and swells in a violent brew, creating a loud roar every time it crashes into the rocks.Though still dangerous, the Devil's Punchbowl is a bit more accessible than Thor's Well and you can even wander inside from the beach during low tides. But make sure you keep an eye on the water (as you always should at the coast) and watch for bigger waves that might rush in.
If whale watching is your thing, you're in the right place! Whales like to congregate in the kelp beds offshore near the Punchbowl. And, just a bit up the coast in Depoe Bay – the whale watching capital of the Oregon Coast – you'll find the Whale Watching Center, whale watching charter boats galore, and a resident pod of gray whales that calls the area home between March and December.
Lincoln City is a great town extending for miles along the coast. There are countless beaches and hikes to explore (as well as outlet shopping if you're so inclined). Top hikes in the area include God's Thumb and the Knoll – a 4.4-mile loop to see both the grassy hilltop and the basalt peak overlooking the ocean – Drift Creek Falls, Cascade Head Trail, and Hart's Cove. A bit north in Neskowin, a hike to Proposal Rock can also lead you to views of a 2,000-year-old sunken 'ghost forest' during low tides.
Further up on the north coast, Cannon Beach awaits with its famous Haystack Rock. Even if you've never been, you'll recognize the near-iconic view. But just because you've seen pictures doesn't mean the magnificent sight isn't worth the trip – there's nothing quite like standing next to the giant rock while the ocean tickles your ankles. During low tide, some tide pools become visible at Haystack's foot, if you need more incentive.
A trip to Cannon Beach wouldn't be complete without a stop in Ecola State Park, just outside the north side of town. Not only does the state park include two of its own smaller, more secluded beaches, but also several hiking trails, such as the Tillamook Head Trail that leads to the summit of Tillamook Head and rewards you with stunning panoramic views of the coast below…if the weather is nice.
*From here, it's an easy shot east on Highway 26 to reach Portland in about 90 minutes. But there are a couple more spots we want to tell you about, in case you have time!
Between Seaside and Astoria awaits Fort Stevens State Park, one of the nation's largest public campgrounds and a historic military site – the only Civil War-era earthen fort on the west coast. In addition to year round camping ($32 per night for a standard spot), Fort Stevens contains 15 miles of multi-use trails, a freshwater lake, beach access, and *drumroll please* a historic shipwreck! That's right, a four-masted sailing ship named the Peter Iredale washed ashore in 1906 and its steel frame still sits on the beach, adding a boatload of interest to your walk along the beach.
Technically, Astoria is on the Columbia River, not the coast. But this cute and cozy town is brimming with history and culture – Astoria is the oldest city in the state of Oregon, and was actually the first settlement west of the Rocky Mountains. Not to mention it was featured in The Goonies. Astoria is also home to the Columbia River Maritime Museum, which explores the human and natural history of the waterway, and the Astoria Column, a climbable tribute to the west with awesome views of the Columbia, the city below, the ocean in the distance, and the bridge connecting Oregon and Washington from the observation deck.
Places to stay along the coast:
While between Brookings and Port Orford, the Rogue River-Siskiyou National Forest is just to the east, with many forest roads and potential dispersed camping sites. Make sure you have a map of the area!
Elko Dispersed camping, near Gold Beach. Located along Forest Road 070, you'll find several large pull outs off the road that can accommodate a variety of camping set ups.
Elk River Road near Port Orford. Located in Rogue River-Siskiyou National Forest, the Elk River is dotted with an abundance of dispersed campsites – some are little more than pullouts just off the main road, but a few are large, somewhat private, and even have river access. Dispersed camping starts just after the Elk River Salmon Hatchery on Elk River Road (County Road 208). Black bears live in this area, so be prepared.
Smith River Road near Reedsport is lined with free campgrounds. The road leads to Smith River Falls and Smith River Falls Campground, which takes about an hour to reach from Reedsport. An excellent swimming spot, the campground is popular and can get crowded on weekends.
The Siuslaw National Forest encompasses much of the area between Reedsport and Seal Rock. Forest Road 58 branches off 101 and extends deep into the national forest, with several other forest roads branching off.
Beverly Beach State Park, just north of Newport, is a popular stop with views of Yaquina Head Lighthouse, so the state park recommends you make a reservation to make sure there's space for you. This site is also just a quick walk under 101 to miles of sandy beach, tide pools, and whale watching. Though camping here is $31 per night, access to the beach and flushing toilets might be worth it.
Just minutes from downtown Lincoln City, Devils Lake Campground offers a place to stay on a serene lake while still being just a 10-minute walk from the beach. Amenities include hot showers, flushing toilets, and drinkable water nearby. The campground may fill up during the busy season, but smaller vehicles – like your Excursion campervan – are allowed to park in unused tent spaces.
The South Lake dispersed area sits an hour from Pacific City. Tucked within the Siuslaw National Forest, this is a formal dispersed camping area (which may sound like an oxymoron, but comes with a vault toilet) and you'll enjoy the serene lake nearby.

Before you get to South Lake – it's a bit tucked back – you'll find many dispersed spots around Mount Hebo, specifically along Mount Hebo Road (Forest Road 14). From the Mount Hebo viewpoint, you can see the Pacific Ocean stretch before you.

The Tillamook State Forest extends from Tillamook to Cannon Beach with a maze of winding roads (make sure you have a map!) that offer countless dispersed camping opportunities. But this spot will keep you closest to Manzanita alongside the Nehalem River and Cook Creek Road.
The further north you go, dispersed camping opportunities get a little few and far between. However, there are a variety of RV camping parks along 101 that would accommodate a campervan perfectly, if not in the middle-of-nature way you were hoping.

Seaside RV Resort
Sunset Lake Campground & RV Park
Kampers West RV Park near Warrenton
Hammond Marina RV Park, right next to Fort Stevens
And that's our trip! We hope you have a great time; Oregon has so many wonders, it's hard not to list every little thing. Don't be afraid to stop and smell the proverbial roses along your trek, maybe your favorite part still awaits! Share your adventure photos with us on social media too!